Online Grant Request Instructions
1. Login and choose the ACP Grant Requests tab within the CCM Client Portal.

2. Click on the New Grant Request button.
***Below this button will be a list of all past contributions you have made.

3. Type in the Charitable Organization Name that you are searching for and choose the blue magnifying glass.

4. Select the Charitable Organization Name you wish to nominate a grant for from the search results that appear. If there is more than one result, choose the appropriate one.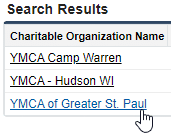 ***If the organization is new, simply skip the search step, and fill in the organization name in the SECOND Charitable Organization Name box displayed.

5. Once an organization is selected, the Address Information and Tax ID (if available) should autofill.
***If the organization is new, simply fill in the address and tax ID information yourself.
 
If there is a Special Project Name, you can note that here. Enter your Proposed Grant Amount and select whether you want to disclose your name or have your donation be anonymous from the Specify Acknowledgment Option dropdown menu. Check the box to certify that you agree with the conditions of your account.

Double check your information and then click Submit. If you have another ACP Grant Request to submit, you can instead click Submit & Create New ACP Grant Request.
***This confirmation message should appear once the grant request has been submitted.